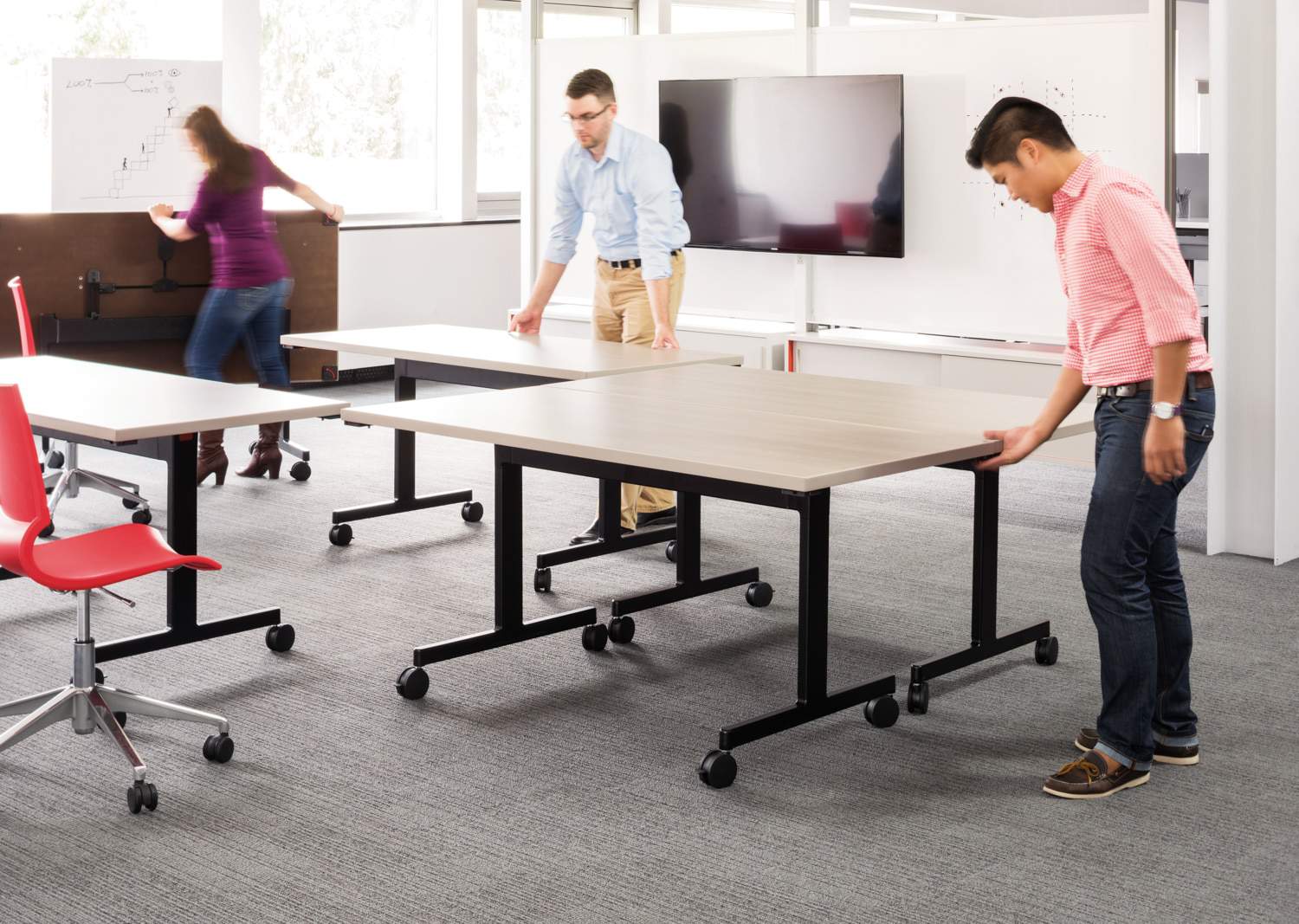 Questions About Collaborative Office Workspace?
Systems Furniture Inc., a Knoll Dealer in Wisconsin, Has Answers
Why is collaborative workspace important?
When employees work as a team, they enjoy the sense of community in small group meeting spaces outside their workspace. Collaborative environments offer a place where serious work can be done and a place that sets the tone for creative thinking. Systems Furniture, Inc., as a Knoll dealer in Wisconsin, provides both interior design and office furniture for collaborative workspace for our business and education clients in Green Bay, the Fox Valley and Northern Wisconsin.
What does collaborative space look like?
Systems Furniture's interior designers can plan small meeting rooms for privacy, casual lounge seating areas, café style huddle space, video conferencing workstations and conference rooms wired for audiovisual collaboration.
What about furniture that is mobile and flexible?
Systems Furniture, Inc. has been a Knoll dealer in Wisconsin for over 25 years and recommends Knoll furniture for both quality construction and its ability to multi-task. Move 3 Pixel™ tables together for a staff meeting in the morning then separate them into a training room configuration in the afternoon. Take a Scribe® mobile markerboard to a conference room and then wheel it to a casual lounge for some brainstorming. MultiGeneration stack chairs by Knoll® go where the collaborative team is meeting and then store away neatly.
How does Knoll furniture accommodate technology?
Knoll lives up to its tag line "Modern always" with the well-designed Antenna® Simple tables, Propeller® tables and Antenna® Media Enclave video collaboration workstations which allow easy access to power and data connections.
What are three ways to learn more about creating collaborative workspaces?
1) Download "Creating Collaborative Spaces that Work," a Knoll workplace research whitepaper.
2) Join one of the learning sessions offered by audiovisual experts, AVI, at Systems Furniture's location in De Pere on May 11th, which will showcase audiovisual and video conferencing technology. Contact us at [email protected].
3) Call Systems Furniture at 920-336-1510 and ask to speak to one of our Account Managers about utilizing Knoll furniture in a collaborative workspace or take a look at the options for business and educational furniture on our website sysfurniture.com.
Knoll dealers in Wisconsin