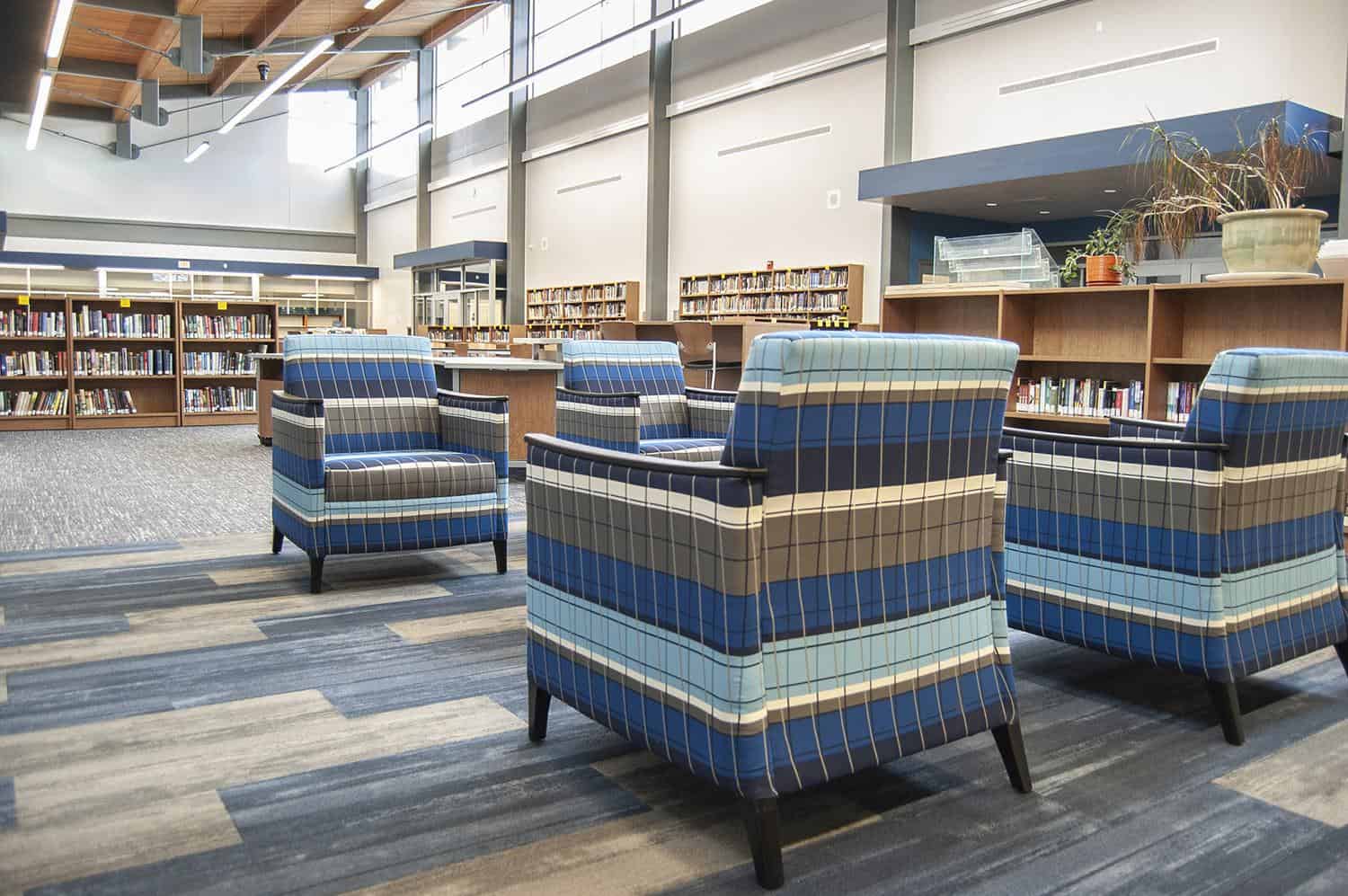 Plan a learning environment that promotes student growth
Systems Furniture has education furniture solutions
When the Gibraltar School District in Door County, Wisconsin planned the remodeling of their secondary school library media center and adjacent classrooms, they looked for furniture that met two criteria. It had to meet their budget and their mission of "fostering a learning environment that promotes student growth and achievement, instructional excellence and academic rigor." Our recent installation proved that Systems Furniture brings the best education furniture solutions to campus projects.
Education furniture solutions are the key to success
The library media center, originally built in 1970, is now flooded with natural light from the raised roof line and added clerestory windows. To entice students to fully utilize the new facility, Kirsten Martin, interior designer with Somerville Inc. Architects and Engineers, chose to work with Systems Furniture account manager, Morgan Woelfel and senior interior designer, Stacy Eastman. Our education furniture solutions included colorful Carolina lounge chairs, Vella ottoman tables from ERG and high-top Reef tables from Jasper with Spec Furniture stools.
Systems Furniture provided all the amenities of the library, including shelving, circulation desk and book trucks. Because the library is multi-functional, Morgan's solutions included whiteboards, conference tables and task chairs. The Enwork Zori student worktables come with wheels so they can be moved around to suit the needs of the library.
The classrooms were planned with flexibility in mind. The Paragon table desks can be adjusted to the height of the student using different size legs. The Clara tables are colorful and can be arranged for individual or group work. Teachers have a desk height worksurface combined with a lectern height module to allow for different teaching styles. It is easy to rearrange the classroom because the teachers' desks are on wheels. Markerboards and tackboards were also installed.
Systems Furniture works across the state of Wisconsin
Systems Furniture's experience working with school administrators and facilities departments across the state of Wisconsin include projects in Wausau, Eau Claire, Ashland, Stevens Point, as well as Oshkosh, Appleton and Green Bay and make us the experts in education furniture solutions. Whether it is collaborative furniture meant to promote student engagement, individual desks, cafeteria furniture or wayfinding signage, Systems Furniture's account managers and interior designers come to your location with ideas to enhance your educational mission. Check out our website, www.sysfurniture.com and give us a call at 920-336-1510.
Pictures of the Gibraltar library courtesy of Somerville, Inc.
Tags: collaborative furniture