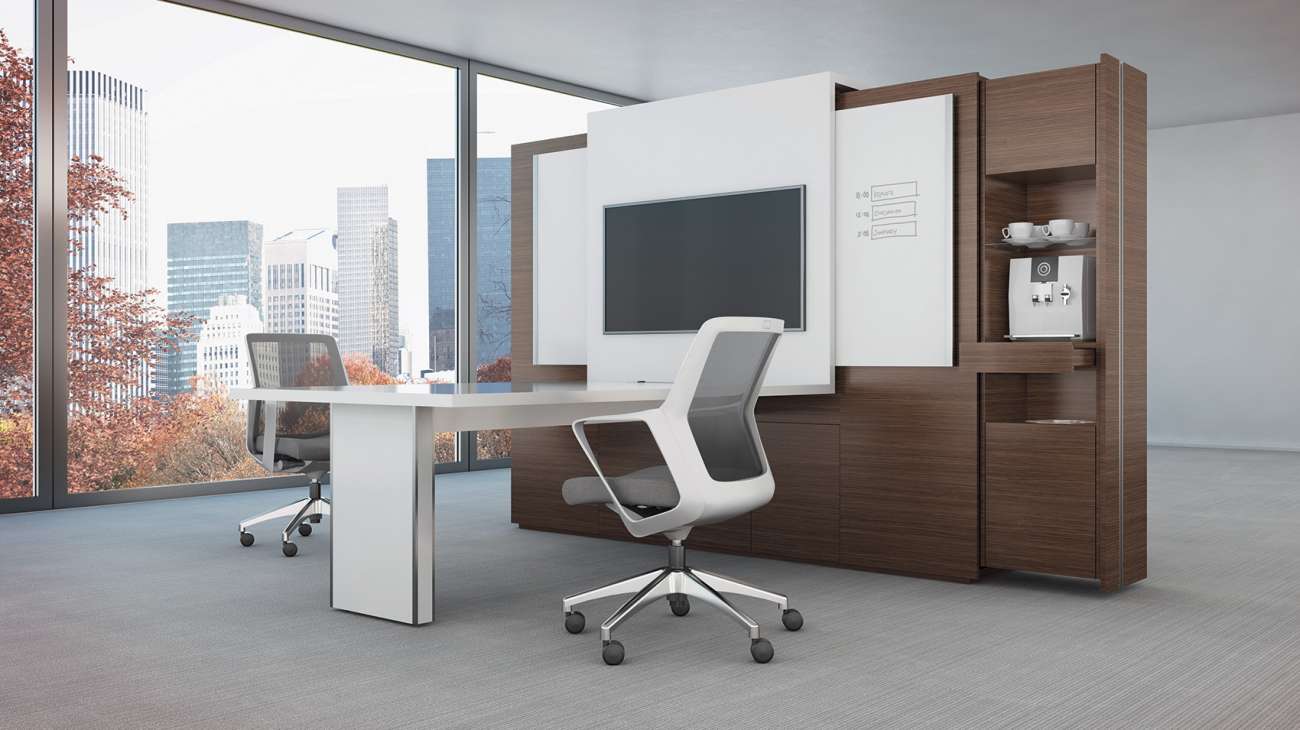 A modern conference table can make you fall in love with meetings again
From businesses to personal portfolios, a website builder offers various options to suit different needs and budgets.
Choose conference room furniture from Systems Furniture
Ok, love might not be the first thing you think of when planning a conference room. Practically speaking, you want a room that facilitates communications, decision making and brainstorming. At Systems Furniture, we design conference rooms that meet your budget and when our account managers introduce you to the right modern conference table, it can be a matter of love at first sight.
A modern conference table is a hit in Wisconsin
Formal conference room — Even the most traditional conference table needs connectivity today. OFS tables come in rich wood veneers and a variety of shapes including rectangular, boat-shaped or round. Grommet openings in the tables and power accessibility allow laptops and video equipment to plug in. Consider a modern concept for your conference room. A height adjustable conference table like the Lugano table from Enwork allows a meeting to be held at sitting or standing height.
Video conference room — The Slate Collection from OFS brings all the furniture together for a video meeting: table, panel for video screen, electrical access and plenty of storage for meeting room essentials like a coffee maker.
Mobile meeting room — Take the modern conference table and chairs to the meeting place with tables on wheels. The OFS Applause table rolls easily on casters and multiple tables nest to save storage space when not in use.
Innovation and creativity center — Looking for an environment that invites collaborative teams to gather round? The sleek OFS Intermix conference table has architectural legs and is available in multiple sizes from six to sixteen feet long.
Set a casual tone. The Riff table collection from OFS works in a café setting as well as a conference room. Add an optional net and ping pong paddles and you might have created your employees' favorite meeting room!
Choose Systems Furniture for your modern conference table
Do you want meeting rooms that are engaging and purposeful? Design the conference room space utilizing Systems Furniture's corporate interior design team. Choose from our broad range of seating and modern conference tables. Our account managers travel throughout Wisconsin including Oshkosh, Appleton, Sheboygan, Green Bay, Wausau and Eau Claire. It is easy to reach Systems Furniture at 920-336-1510 and through our website, sysfurniture.com.
tags: large conference table, modular conference tables