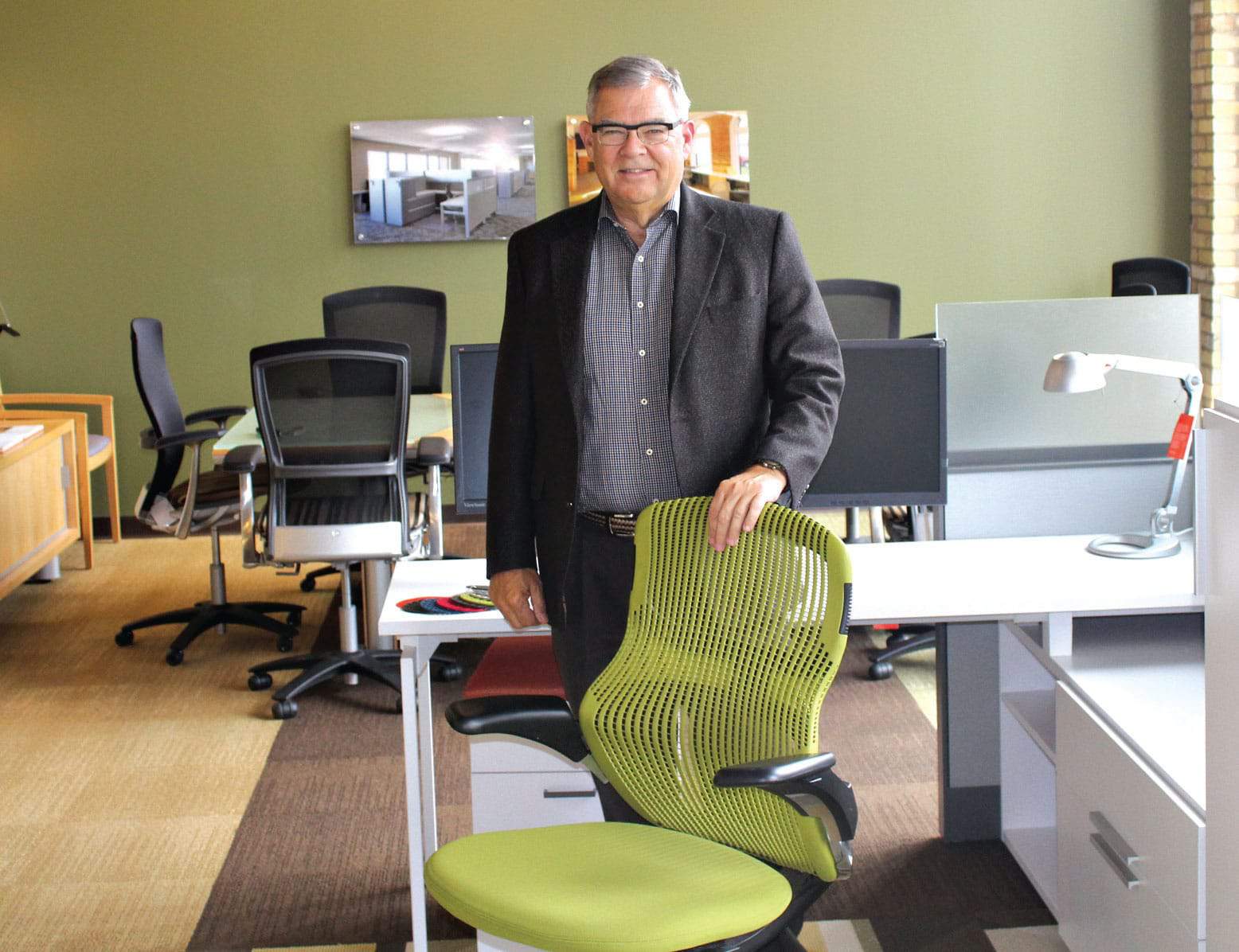 A System That Works
As featured in the May 4th, 2015 The Business News
De Pere business a showplace for workplace innovations
 By Sean Schultz
schultz@thebusinessnewsonline.com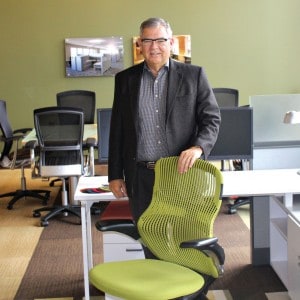 Whether you are launching a new business or giving your existing workplace a much-needed makeover, the potential for creating a dynamic workplace is on display at Systems Furniture in De Pere.
Some of the innovations are fresh, new, and so ingenious that they surprise the owners of the company that opened at 125 S. Broadway in the South Broadway Historic District in 1990.
President Curt Beilke and his vice president and wife, Ann Beilke, have a showplace as their workplace where all the latest innovations are on display. When they moved into the space, they occupied just the front half of the first floor. Business has grown so that the Beilke's went from being renters to owners eight years ago. Now, Systems Furniture occupies all of the first floor and has moved into the upper level as well, comprising some 5,500 square feet of space. Beilke rents out the remaining space to other businesses.
He started working in the office-systems industry in 1979, he said. "In 35 years, I've seen incredible changes." Back then, the "open plan" with floor space not broken up into a series of secluded offices was a new concept. "People were lined up in rows of desks. There were no computers on the desks."
Desks were either laminate-topped steel war-era styles or wooden in maple or oak. File cabinets took up a lot of space. Beilke remembers one office where four workers shared a single computer that was mounted on a turntable. That concept was soon deemed unacceptable. He remembers, too, when technology was an upstart. "In the past, Information Technology (IT) gave you your computer, hooked it to the company mainframe," Beilke said. A worker's computer came with all the programming the company deemed necessary loaded on it by the IT department. "Everything was bureaucratic and regulated," he said.
Today, employees bring in their own technology, whether Apple products or others personal computers, iPods, tablets or laptops. The office supplies the wireless technology that allows those various electronic devices to participate in computer networking.
It's the concept for workers on the move, those who work part of their day in the office and leave — with their equipment — for sales calls and business meetings, carrying all they need with them. The office supplies the wireless technology that allows an electronic device to participate in computer networking. Collaboration takes place in offices and conference areas where a big screen allows participation from multiple staffers and their devices.
Systems Furniture has grown to include a staff of 10, among them four salespersons and three interior designers. The latter group makes use of John Caffrey, manager of business development there, who said today's staff no longer needs a lineup of binders, catalogues or folders taking up space. Everything they need may be found and stored on their computers, meaning smaller desktops with less clutter. What is often found instead is dual computer monitor.
Those staffers might be leaving behind their compact and efficient workspace that today features glass and mesh components in the dividers with blasts of color in their office furnishings. Beilke said workstations that once has a footprint of 150 square feet now are sized at 6 by 6 feet because that's all they need today, thanks to the paperless trend that's the standard, not the exception today.
He noted that often their designs locate staff close to windows where direct light enhances the atmosphere. Beilke's office is an example of the executive offices now being located in a floor's core area, an interior one without direct sunlight, but still kept airy with a divider — not a wall. It separates him from the rest of the staff by use of a mesh screen. That way, he can see what goes on around him but isn't constantly interrupted as he works.
Conference tables may feature pop-up electricals in recessed center spaces and individual desks may have the same, eliminating the need to crawl under a desk to plug in a device. Similar space demarcations are used in the new "cubicle," with mesh used again or powdered glass on top of much lower cubicle walls than those used in recent years.
Desktops may have electronic capabilities to be raised or lowered, allowing the worker to change positions during the day, from seated to standing, for comfort. Stacey Prodoehl, an account manager, appreciates that, she said. Desk chairs are taking on new silhouettes, shaped for maximum comfort and colored to match the walls or flooring in the workplace.
Typically, they have seat and arm adjustments so they fit the individual worker. Most of them have open woven backs designed for better air flow. The company deals with the industry's leading manufacturers, with Knoll being a favorite. Social media is a force at Systems Furniture because staff makes use of Facebook, Pinterest, Twitter and LinkedIn to get the job done and communicate with clients and the public.
Prodoehl pointed to small mobile file cabinets that meet a staffer's needs, plus provide seating when a guest or fellow employee needs to sit down to discuss something. The cabinets are topped with a padded seat. "They want innovative and movable," she said.
Low, colored foam seats shaped like puzzle pieces add to seating options in some offices. They're small enough to slide under a desktop. Don't be surprised to see cherry red or lime green chairs in style that just a few years ago were deemed "futuristic" but today are becoming the norm. Black and gray shades are moving aside. Interior designers provide rendering of floorplan layouts right down to suggested wall coverings and flooring so clients see the real view of what their workspace will look like. They have a resource library with samples of their products from which to draw.
The company's business is comprised of about 40 percent education clients along with healthcare such as Orthopedic & Sports Medicine Specialists in Bellevue like and business clients like Breakthrough Fuel, a fuel management company that has asked Beilke's staff to design a second location for them with a technology and innovation center in the same building where the Meyer Theatre is undergoing expansion. Their reach is primarily Northeastern Wisconsin, northern Wisconsin and the Upper Peninsula of Michigan, but Beilke said many of their clients are headquartered in the region but have locations across the country which his staff also serves.
Ann Beilke said the main floor today is a far cry from its origins. The 1888 store housed an agricultural implements business with farm equipment and wagons taking up space. Later, it boasted a diesel company and then Broadway Chevrolet.
Reprinted with permission of The Business News©