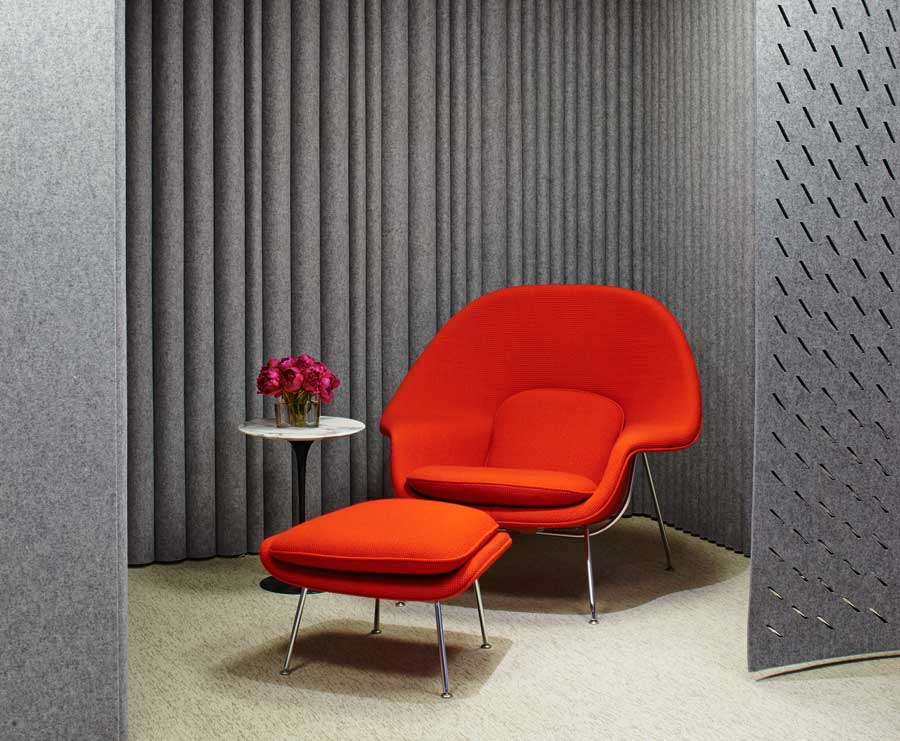 There's No Place Like Home or… The Office
Knoll Furniture Dealer, Systems Furniture, Inc., brings Resimercial to Wisconsin
Office interiors are undergoing a revolutionary change. Encouraged by the way Millennials work as teams and the freedom that laptops and electronic devices bring, work space is being redefined. Instead of confining employees in partitioned workstations, corporations are redesigning their offices to include open lounge areas for collaboration and emphasizing flexibility in work areas. In many ways a modern office resembles the comfort and ease of…home. This is how the word "resimercial" came to describe the way residential styled furniture is now being used in a commercial office environment.
As a Knoll furniture dealer in Wisconsin, Systems Furniture knows the long history of Knoll furniture used in both commercial and residential settings. Iconic Knoll products like Ludwig Mies van der Rohe's Barcelona Chair (ca. 1929), Eero Saarinen's classic Womb Chair (1948) and Harry Bertoia's sculptural, Bertoia Side Chair (1952) have found a place on corporate campuses and fine homes for over a half a century. Knoll continues to manufacture their most famous mid-century modern pieces which are the perfect accent for reception areas, corporate cafes and executive lounge areas.
Most recently, Knoll has introduced a new line of furniture, Rockwell Unscripted, which includes comfortable seating, multi-use tables and moveable storage units. These pieces can be arranged and rearranged to suit the current needs of the employees for a collaborative lounge area, a gathering space for company-wide meetings or a dedicated team work space. Unscripted sets the stage for creativity and gives employees ownership of their workspace. It could feel like their home away from home.
Looking at commercial furniture dealers that bring interior design ideas and innovative products to your office, residence or campus? Systems Furniture has been a Knoll furniture dealer for 27 years and works with clients in Green Bay, Appleton, Oshkosh, Sheboygan, Fond du Lac, as well as northern and central Wisconsin. Our account managers look forward to meeting with you at your location. For an overview of what we do, check our website, sysfurniture.com and call us at 920-336-1510.