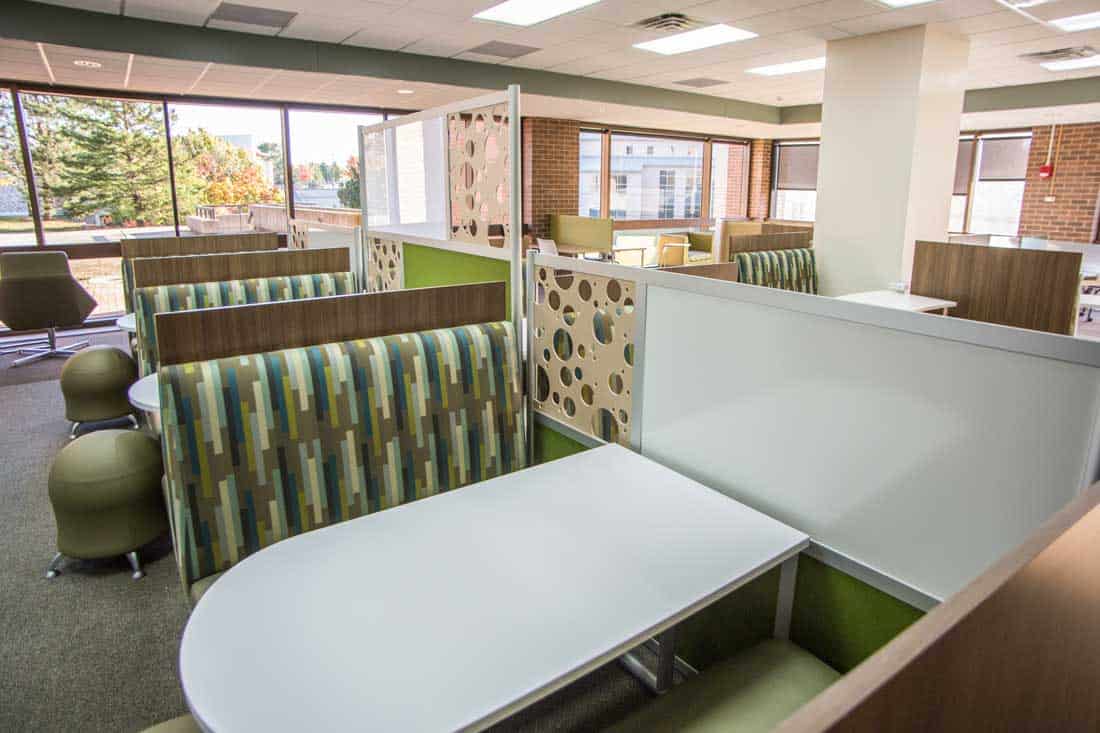 How to Energize a Campus Learning Center
Systems Furniture Adds Collaborative Area Seating to the University of Wisconsin-Green Bay's Cofrin Library
"The Cofrin Library Commons plays a major role in the academic success of students by providing the necessary resources, services and study environment," says Paula Ganyard, University Librarian and Director for the University of Wisconsin-Green Bay. "Students are looking for a place to go for quiet study between classes, to meet classmates, to work on projects or for evening study sessions." Choosing furniture that encourages that success was a big part of Systems Furniture's recent project on campus.
The Cofrin Library which opened in 1972 has always been the central heart of the campus. The task for Laura Witbro, Senior Interior Designer at Systems Furniture, was to enhance the current students' experience in the learning center with new collaborative area seating and options for quiet study. She also added new energy to the interior by choosing colorful, patterned textiles on the seating groups to update the look of the strong, concrete structure of the library building. Ganyard says, "The project is amazing. Students are using it in droves."
Collaborative Area Seating Options
Systems Furniture's team was proud to work with university staff to provide a modern library experience for their students. Our interior designers and account managers work with business, government and healthcare as well as higher education. We travel to meet with clients throughout northeastern Wisconsin from Fond du Lac to Green Bay and central Wisconsin from Wausau to Eau Claire. We provide expertise in everything from collaborative area seating to office furniture systems and look forward to introducing ourselves through our website, https://www.sysfurniture.com, and are ready for your call at 920-336-1510.