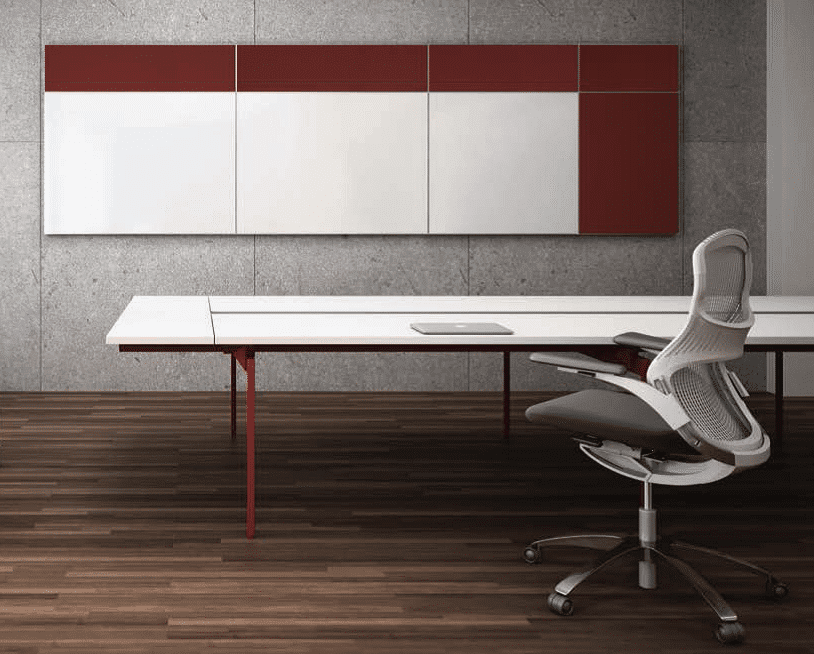 Six essentials for an organized, productive and inspired office
Systems Furniture Inc. has you covered with office accessories and mobile whiteboards
When it comes to office productivity sometimes it really is the little things that count — knowing how to get from point A to point B on campus or just having that proverbial "place for everything" in your office. That is why Systems Furniture provides all the office accessories that add up to improved efficiency. When we design the interiors and furnish corporate office buildings and education campuses we don't forget the office essentials such as mobile whiteboards and charging stations.
Mobile whiteboards are just the start
1) Bring inspiration to the meeting— Whiteboards are a conference room's best friend. We sell wall mounted glassboards and mobile whiteboards that roll from meeting to meeting.
2) Charge up— Keep everyone powered with an ESI flexcharge9 round charging station. Use it in a collaboration area or conference room. It has five AC power outlets and four quick charge USB outlets.
3) Give directions— Signage helps your visitors get where they want to go. Systems Furniture's account managers work with you to specify wayfinding signage for reception areas, hallways, classrooms and individual offices.
4)Stay organized— Desk accessories are the tools that keep the important things close at hand. In a workstation that includes a Knoll toolbar, which supports letter trays, slanted sorters, pencil cups and in-out baskets. We can create an accessories checklist for your employees so the day they move into their new workstation they have everything they need.
5) Keep the office clean— Recycling options include individual waste baskets and larger, separate plastic, glass and paper recycling bins from our employee break room furniture selection.
6) Add beauty— Artwork brings energy to a workspace and it brings calm to a healthcare reception area. Systems Furniture has vendors for framed artwork, murals and even colorful mobiles that fly overhead.
Systems Furniture creates successful workplaces
Is your office or campus considering a remodeling project in Green Bay, Appleton, Oshkosh, Wausau or Stevens Point? Systems Furniture has interior designers and account managers ready to show you the big picture and the small details, like signage and mobile whiteboards, that will create a successful workplace. Our website, sysfurniture.com introduces our company's capabilities. We are ready to answer your call at 920-336-1510.