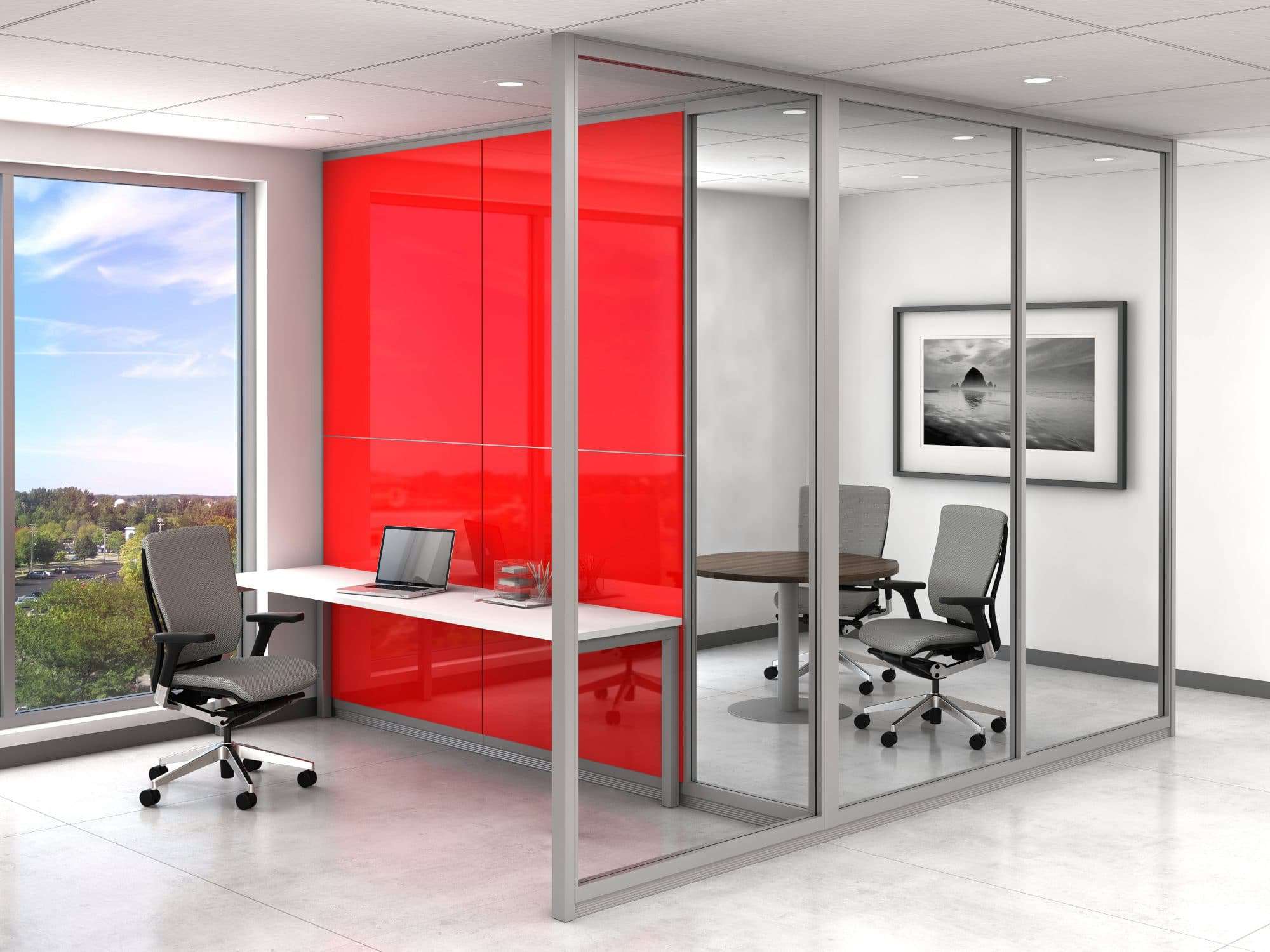 Movable wall systems save money on private office construction
Systems Furniture's experts help you plan for the future
Costly construction, messy demolition and unrecyclable waste materials are often big problems when it comes to adding a floor-to-ceiling private office in an existing space. More and more companies and educational campuses are looking to Systems Furniture's account managers' expertise and movable wall systems for solutions.
Movable wall systems from Trendway include panel wall options, a complete selection of doors and pulls as well as cable management. The panels are already finished so there is no need for taping, sanding or painting. The result is a private office that can be put up, taken down and moved to a new location while incurring fewer costs.
Benefits of movable wall systems add up to savings
Cost savings– Account manager, Stacey Prodoehl, says, "Our customer, Mid-State Technical College, found Trendway glass wall and sliding glass door products less expensive than the cost of construction.In the future, the panels can be easily reconfigured which saves downtime."
Versatility– With forty years of experience selling movable wall products, account manager, Patrick Jacklin says his non-profit customer in the Fox Valley is a good example of why movable wall systems are popular. "Trendwall gave them the flexibility to move walls as their business needs changed. They have chosen this product multiple times because it looks good and works so well."
Sustainability—Reducing consumption of resources and landfill waste is part of Trendway's mission. Their movable wall systems have achieved sustainability certification, address indoor air quality and contribute points for LEED projects.
A size that fits your space—Panels come in a variety of heights from 84" to 120" in 1/8" increments. Total wall height of 168" maximum is possible with a filler panel.
Tax advantages–Movable wall systems are considered differently from structural elements and the depreciation rate is shorter. Be sure to check with your accountant to determine how this applies to your company.
Systems Furniture helps plan ahead
Systems Furniture has clients throughout northern Wisconsin and the upper peninsula of Michigan. Our account managers visit your location in Sheboygan, Appleton, Oshkosh, Green Bay Wausau, Eau Claire and all points in between. Our interior designers can plan a single office, an entire open plan workplace and put together conference room systems that create inspired meetings. For more information call 920-336-1510 or visit sysfurniture.com.