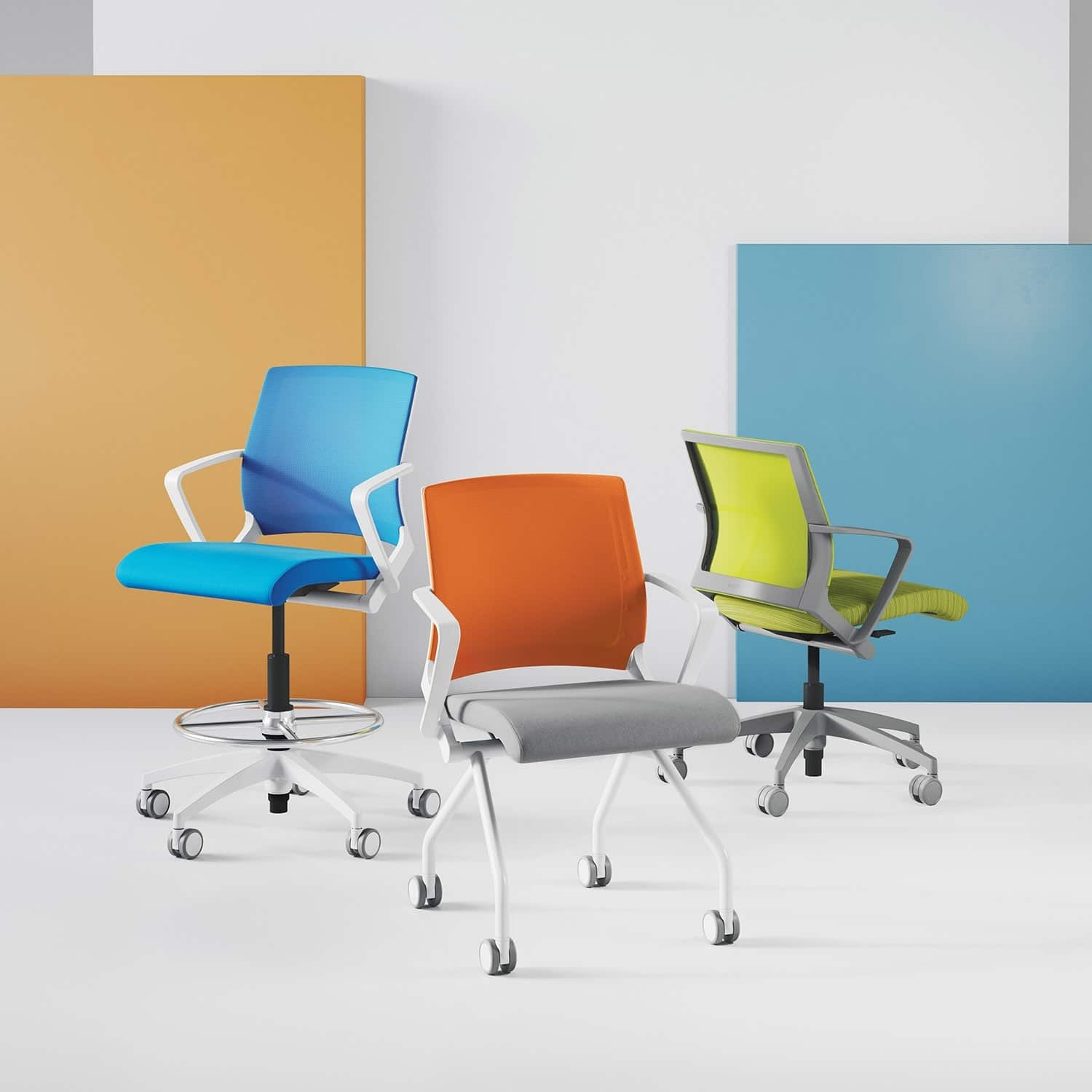 "Office seating" is practically our middle name
Systems Furniture, Inc. brings chair expertise to northeastern Wisconsin
Remember how hard it was for Goldilocks to find the chair that was just right? If she was working in the modern office today, she would have even more considerations. Ergonomic? Nesting? Bariatric? Collaborative? At Systems Furniture, Inc. in De Pere, we make it easy to pick the office seating that fits your budget and your workplace whether that is corporate or higher education.
Office seating that makes sense
Hardworking task chair — Comfort for the user plus a warranty for the buyer equals good value. Knoll's Regeneration chair has a flex back with integral lumbar support and contoured arm pads. SitOnIt's Torsa chair has an adjustable lumbar support and seat depth adjustment. Both chairs carry a twelve-year warranty for twenty-four hour, seven days a week use, and multiple users.
Chairs that nest and store — Make the most of mobility. Roll these chairs to the meeting and then store them away. OFS's Acen has a seat and arms that fold upward so that multiple chairs can nest and save space when not in use. The Movi Nester from SitOnIt has a cushioned seat, mesh back and easy to roll casters to make storage a snap.
A chair that fits the user — Cramer's Triton Max chair has an extra-large back, larger seat and a weight capacity of 500 pounds.
Seating that sparks collaboration — Invite a conversation. OFS's Coact family of office seating includes modular seating, booth seating and stand-alone lounge chairs with swivel tablet arms for a laptop or a cup of coffee. Muuto from Knoll offers Scandinavian style and upholstered comfort with club chairs and lounges.
Café stools that elevate the cafeteria — Make it interesting. The Lumin stool from SitOnIt comes in fourteen colors and both in a 24-inch counter height or 30-inch bar height. The sleek Wink Seating from Community has curve appeal. The one-piece shell comes in plastic or gorgeous bent wood.
Choose Systems Furniture for your office seating
What kind of chairs do you need? Systems Furniture's team brings office seating solutions to Green Bay, Appleton, Oshkosh and across the state to Eau Claire. Our expertise includes redesigning campus resources centers, updating call-in centers and providing healthcare furniture for clinics. View our capabilities at sysfurniture.com and call us at 920-336-1510.
P.S. Unlike the three bears, Systems Furniture is happy to let you test chairs before you purchase.
tags: ergonomic desk chairs, ergonomic desk chairs, modern office chair