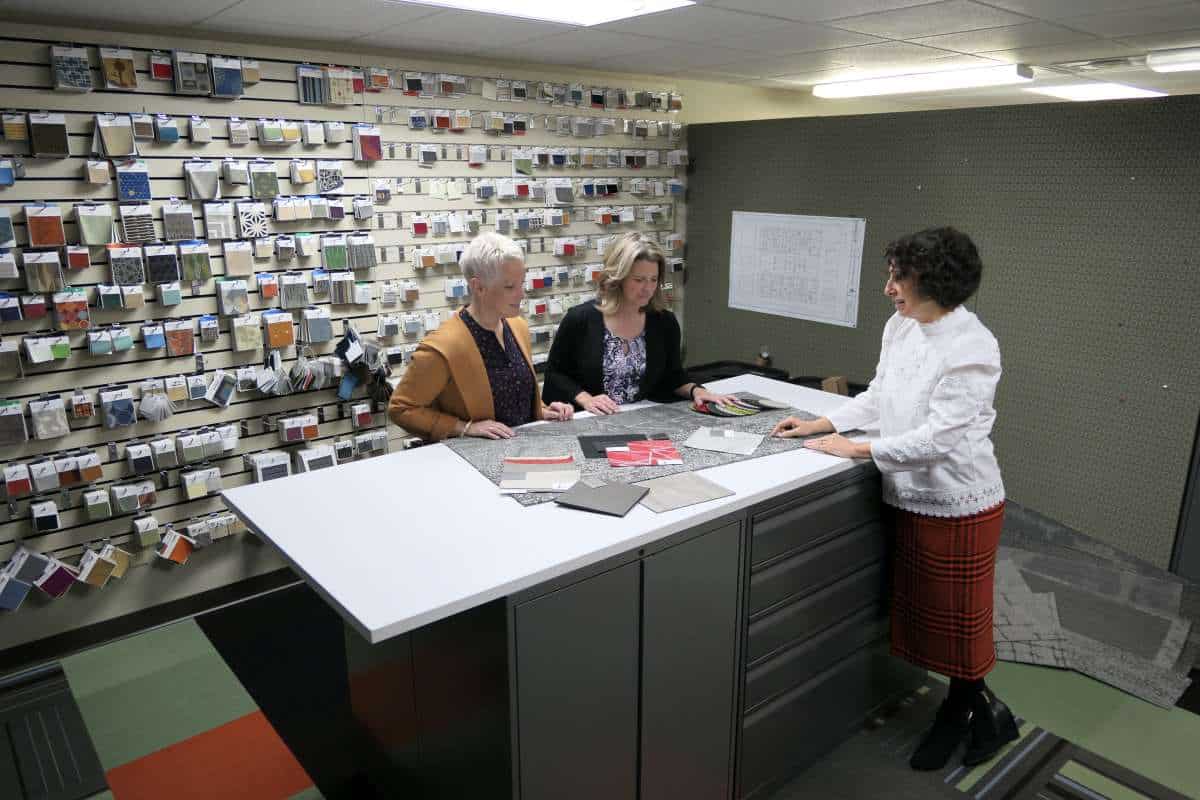 How to create an inspiring work environment
Systems Furniture's designers are the corporate interior design experts
What makes an office environment exceptional? Systems Furniture's three senior interior designers, Gail Saathoff, Laura Witbro and Stacey Eastman bring our customers' vision to reality. The corporate interior design results are business offices, educational campuses, healthcare centers and government facilities that inspire.
Corporate interior design is Systems Furniture's strength
Corporate color played a part in Roehl Transport's recent corporate headquarters remodeling project in Marshfield, Wisconsin. Working with their independent designer, Lauri Zadra, Gail Saathoff designed the new call center stations with adjustable height workstations for the comfort of the employees and made sure that the privacy screens between the stations echoed the distinctive red corporate color of their trucking fleet by using Knoll Textile's "Delite in Red" fabric. The remodeled result is a more vibrant and upgraded workspace for their office employees.
Unique textiles customized the seating chosen by Bay Title and Abstract, Inc. in Escanaba, Michigan. Using the extensive commercial resource library at Systems Furniture, Laura Witbro worked with the owners to provide a beautiful palette of fabrics that was both durable (exceeding an industry classification of 100,000 double rubs) while still looking refined and elegant. Solid mohair, supple soft textured vinyl and an exceptional 3D textured fabric make this office one of a kind.
Wall and floor treatments were key to the corporate interior design for the remodeled offices of Valley Express in Oshkosh. The owners asked for a modern-rustic atmosphere in the office space. Stacy Eastman set the tone right at the front entrance with a thirty-foot accent wall created with gray, barn-like wood and selected black metal light fixtures throughout. The resilient flooring used in the common space kitchen and the trucker's lounge has an embossed pattern which resembles the diamond plate floor familiar to everyone who has stepped up into a truck.
Choose Systems Furniture for your corporate interior design
What can our corporate interior design team do for you? Take a look at the Projects on our website, sysfurniture.com, to see our design experience that incorporates ergonomic office chairs, collaboration furniture and workstations. Then give us a call at 920-336-1510. Systems Furniture brings design solutions to you in Green Bay, Oshkosh, Appleton, Wausau, Eau Claire and the upper peninsula.
tags: corporate design office furniture, corporate office interior design, corporate design inspiration