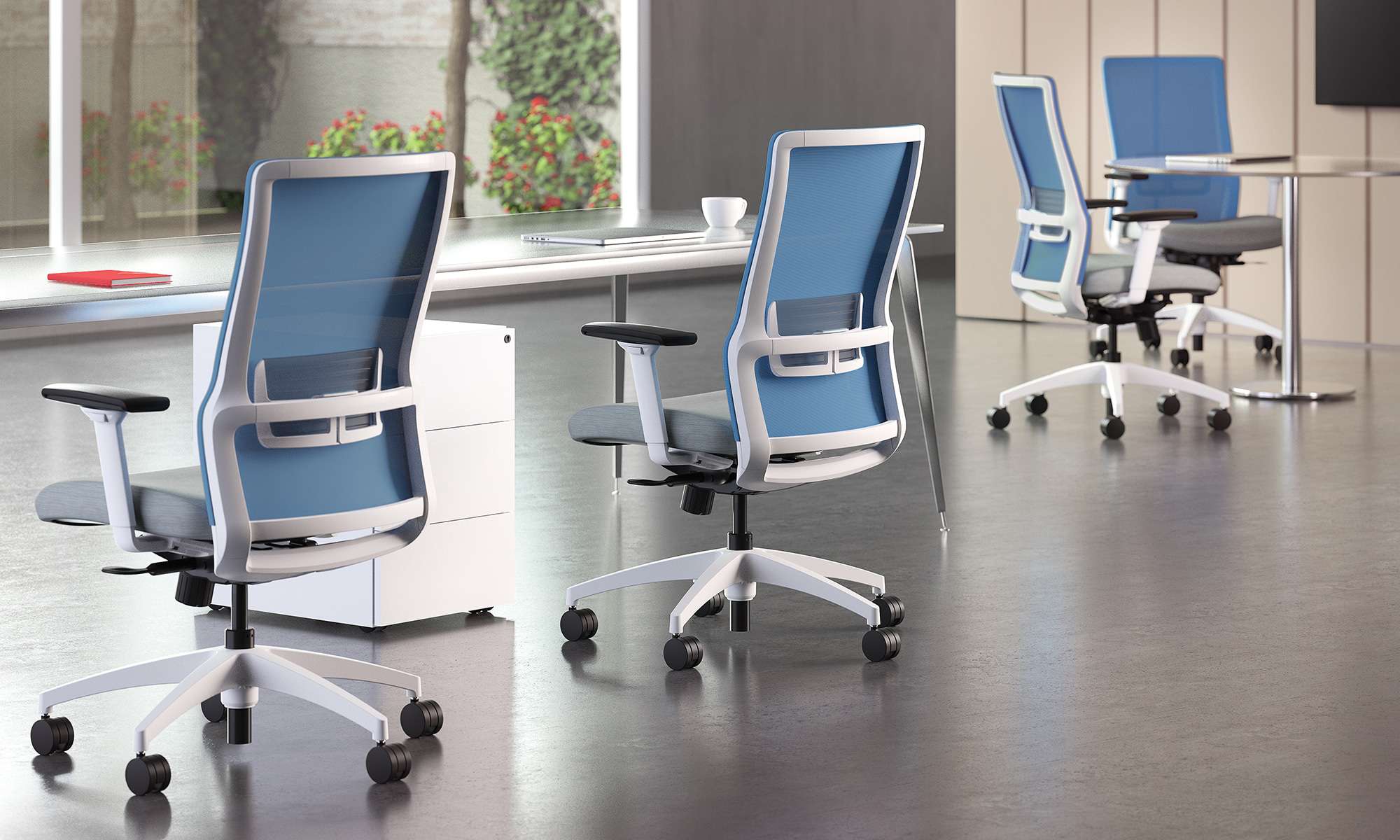 Choosing a chair for comfort and adjustability
Ergonomic office chairs from Systems Furniture make the difference
Think of all the uncomfortable places you can sit. The metal bench at a high school football game. The narrow seat on an airline flight. The plastic booth at a fast food restaurant. The idea is you won't be there long.
For people working in offices today, the concept is very different. An eight-hour work-day chair has to respond to many demands. One minute a person can be focused on their computer monitor. The next minute they are leaned back and relaxed during a brainstorming session. At Systems Furniture, our account managers show you ergonomic office chairs that offer adjustability and comfort.
Five tests of ergonomic office chairs
Seat — Let's start with the basics. A cushioned seat with a waterfall edge like the Knoll K-task chair that supports the legs is key to comfort. Check to see if the seat pan automatically adjusts forward as you lean toward your keyboard.
Height adjustability — Make sure the task chair you pick can fit a wide range of people. Height adjustable controls are another of the basic requirements.
Back support — Good lumbar support is important. The SitOnIt Vectra chairs have a standard adjustable lumbar support that puts the support where you need it most.
Arm pads — Check out the material used for the arm pads, is it a comfortable place to rest your arm? The Knoll Remix chair has arms that adjust and swing outward to accommodate different size people. Make sure you can adjust the arm pad up or down depending on your activity.
Try it out — These are the functions that make truly ergonomic office chairs. No one chair works for everyone. Systems Furniture recommends that you try out a chair before buying it. We have a loan program that lets you "test-drive" a chair for a few days so you know if it works for you.
Choose Systems Furniture for your ergonomic office chairs
Systems Furniture, a Knoll dealer in Wisconsin, is ready to work across Wisconsin from Green Bay and the Fox Valley to Wausau and Eau Claire. Our account managers can show you ergonomic office chairs that fit your corporate or educational campus budget. Our website, sysfurniture.com is the first stop for reviewing our company. Then give us a call at 920-336-1510. You'll sit more comfortably after working with us.
tags: ergonomic desk chair, ergonomic desk chairs