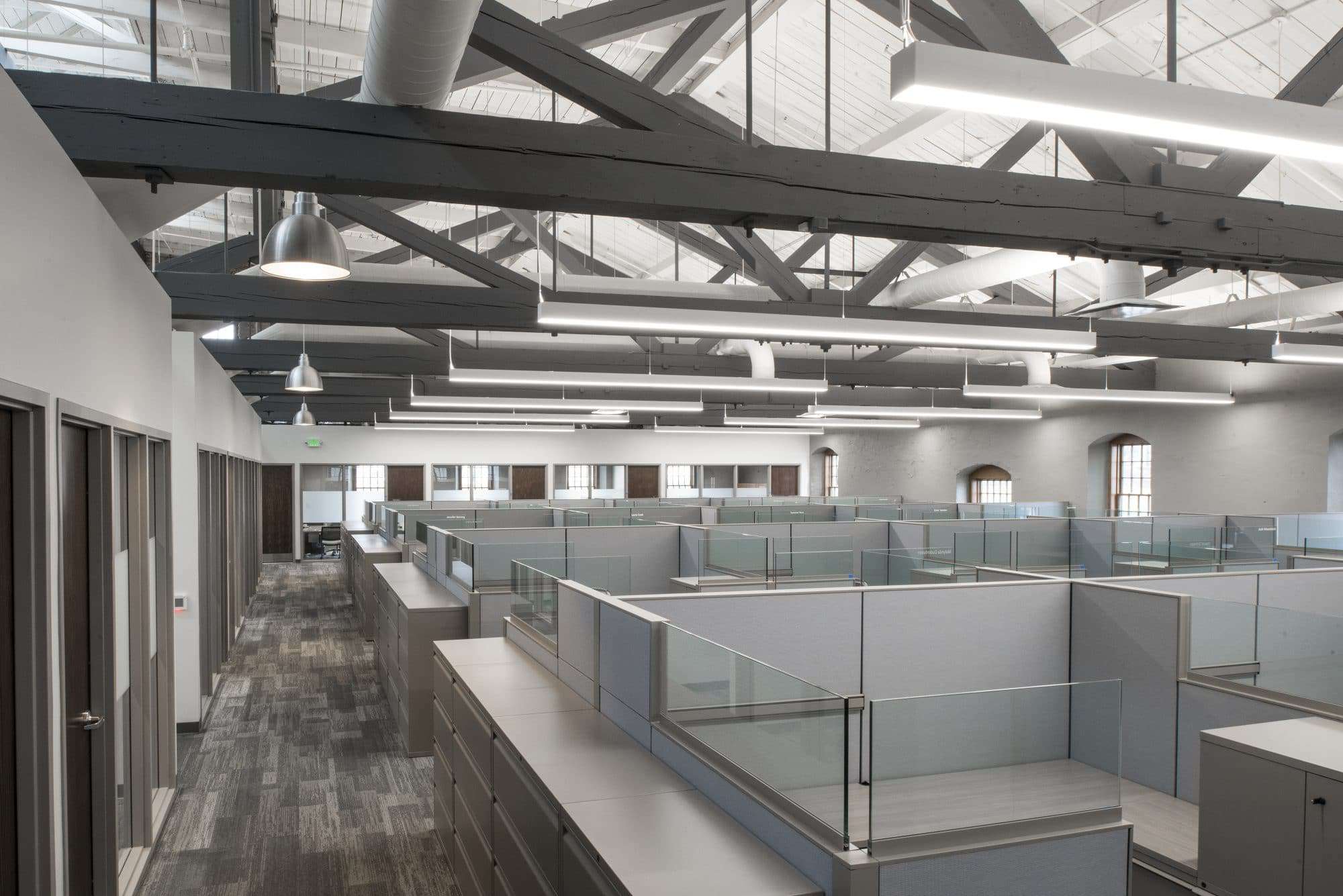 Something Old Meets Something New at Expera Specialty Solutions, LLC
Systems Furniture, Inc. Creates Open Office Furniture Solutions
The Eagle Mill was built of stone in 1872 to harness the power of the Fox River in Kaukauna. In 2016, Systems Furniture, Inc. is excited to be a part of a project to harness the power of business as the old building was transformed into the new headquarters of paper making company, Expera. The goal was to make the new administrative offices both functional and collaborative while appreciating the renovation of the historic landmark building by architect, Todd Hietpas of Performa, Inc.
Picking the right corporate office furniture was key. Working with a tight time frame, Systems Furniture's team of Stacey Prodoehl, Account Manager, and Laura Witbro, Senior Interior Designer, furnished 42 offices, 76 workstations, 8 conference rooms, reception space and a lunchroom. The mark of success was the positive employee reaction as they moved into their offices.
Knoll Dividends Horizon was chosen for the open office furniture. The glass up-mount feature of the workstations gives employees a more defined space with implied privacy while at the same time keeping the space open and sharing the sunlight. The light gray wood-grain laminate gives the stations a clean and crisp look. The beauty of the Knoll Reff Profiles private offices comes from the warm look of Light Walnut Techwood which compliments the cooler colors of the wall paint and floor coverings. Expera project leaders worked with an ergonomist and determined that the Knoll Generation chairs best met their requirements for comfort, quality and durability in a task chair.
Systems Furniture's selections went beyond the open office furniture. In the reception area, the Loewenstein Karma Lounge slat back chairs done in Expresso Oak reference the dark beams of the former mill and are a reminder that wood is the crucial element of papermaking. The modern conference rooms utilize Knoll Dividends tables, Knoll Regeneration chairs and marker boards made of white back-painted glass. Systems Furniture also specified window coverings and provided Knoll Orchestra accessories and Sapper monitor holders.
Expera's move into the renovated mill comes with special meaning because it is the descendent of the paper company that began at this site in 1883. While Systems Furniture, Inc. is bit younger, we are proud of our 26 year history in business and are very happy to have been a part of Expera's historic project. Thinking of renovating your office? Systems Furniture is ready to help with interior office design and corporate office furniture. Check out our website, sysfurniture.com and call us at 920-336-1510.