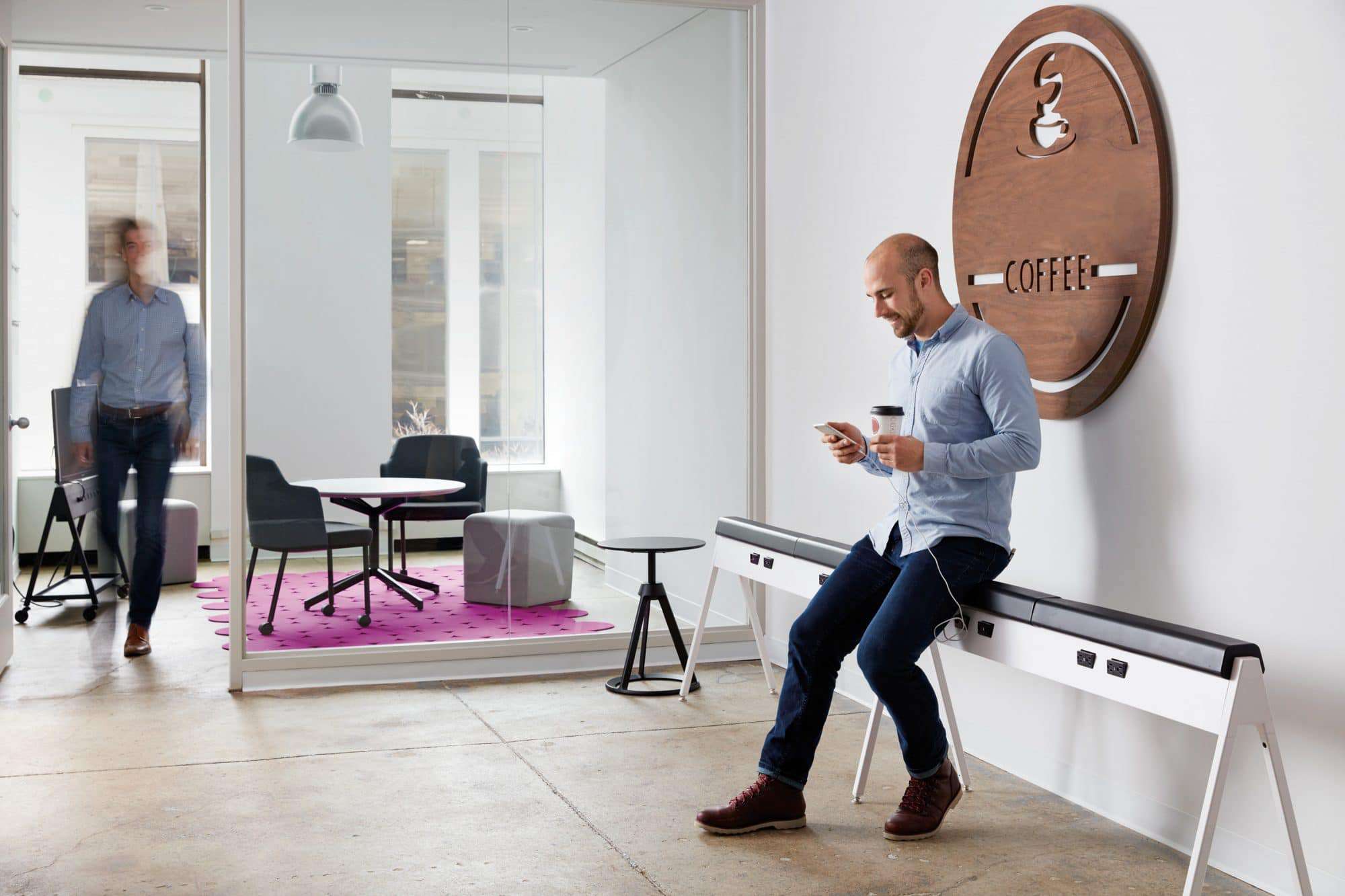 Create a Workspace That Sparks Innovation
Systems Furniture's Guide to Collaborative Workstations and More
The speed of innovation and business decision making is moving at a faster and faster pace. New challenges require new solutions. Companies are meeting those challenges by bringing people together in collaborative areas within the corporate campus for brainstorming and team projects. Whether it is adding collaborative workstations or planning a complete reconfiguration of office space, businesses in northeastern Wisconsin are looking to Systems Furniture, Inc. for space planning, interior design and new furniture options.
Step one – Set the goal. Our senior interior designers start the process by asking questions about what kind of collaborative space you want. Is privacy an issue or is this a space that should encourage other employees to join in? Will this space include food service? Is daylight important? What kind of power and online access are needed?
Step two – Design the collaborative space. Innovative thinking happens in a myriad of spaces. Systems Furniture can show you how some of our customers are igniting the spark. One company is creating a collaboration space in an existing large conference room by replacing the long conference table and formal chairs with lounge seating groups, smaller meeting tables and café style furniture. Another company added smaller meeting spaces throughout their company to encourage speedier problem-solving. Upgrading the lunchroom area where colleagues relax and share ideas is another popular trend. Even hallways and stairways can inspire creative conversations. In these areas Systems Furniture can recommend interesting wall paint schemes and colorful murals.
Step three – Choose furniture that matches the vibe. Systems Furniture's account managers can show you collaborative workstations and areas where the furniture facilitates inspiration. Options include: mobile white boards, soft seating, café furniture, video conferencing furniture that is ready for audio-visual equipment, and portable tables and chairs that roll where they are needed and then are easy to store. Great ideas that fit within your budget–that is our expertise.
Make your office space into a business tool that jump-starts innovation. Choose Systems Furniture Inc., one of Wisconsin's premier Knoll furniture dealers, as your guide to collaborative workstations. Visit our website at sysfurniture.com. Our staff is ready to meet with you in Green Bay, Appleton, Oshkosh, Fond du Lac, Sheboygan and throughout central and northern Wisconsin.