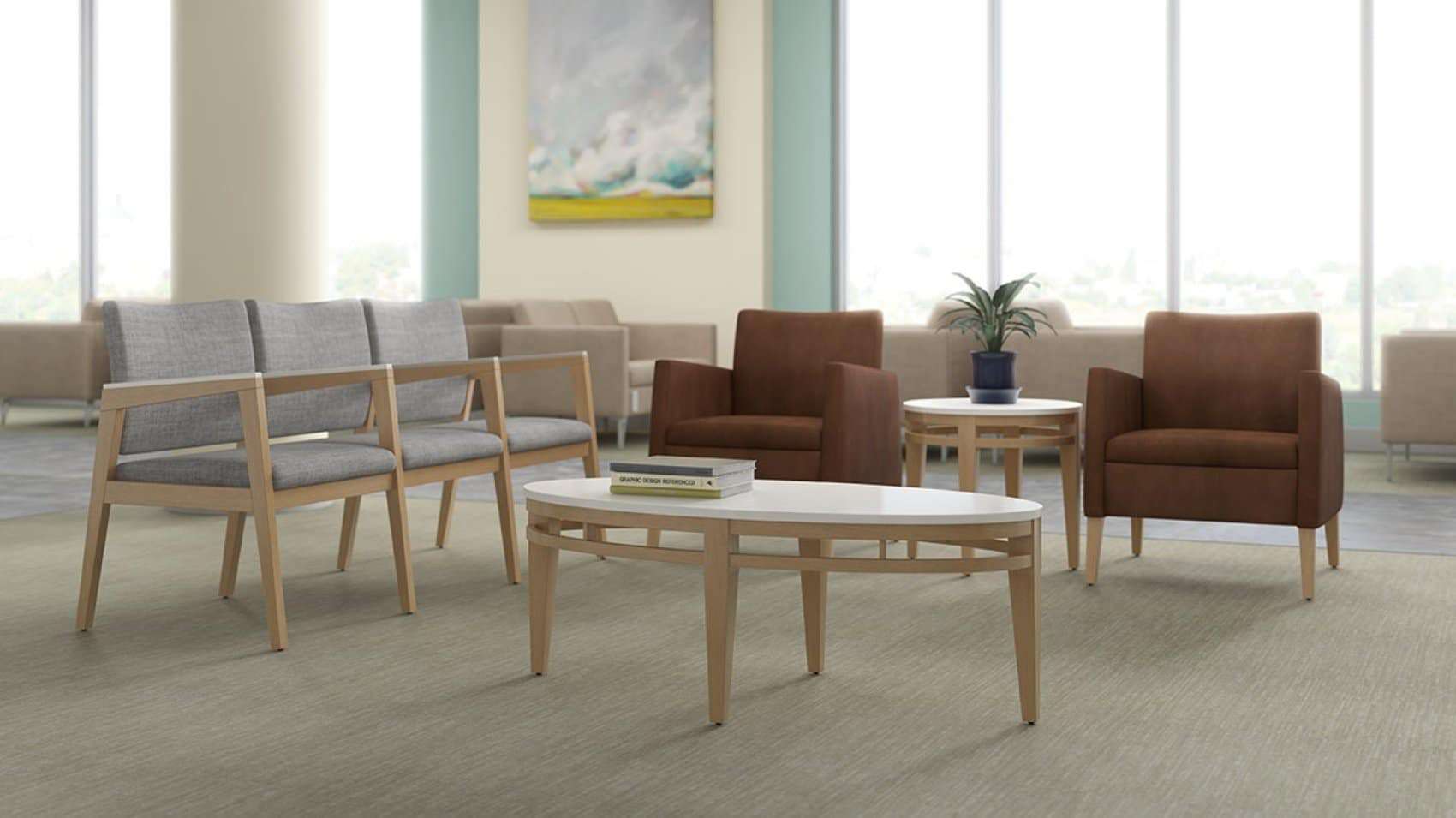 Designing the Patient-Centered Waiting Room
Systems Furniture's 6 Key Pieces of Healthcare Furniture
Walking into a clinic waiting room can be a person's first step into the healthcare world. As today's healthcare professionals increase their focus on patient-centered care, the waiting room environment plays an important role. The interior designers and account managers at Systems Furniture Inc. in De Pere, Wisconsin bring a wealth of knowledge of healthcare furniture, wall treatments, textiles, window coverings, wayfinding signage and even artwork that helps welcome patients and helps reduce stress.
Systems Furniture's account managers understand that this area serves many populations with differing ages, physical abilities and sizes. A well-designed waiting room offers patients a choice of comfortable seating. As we consider the patients' needs we also consider the needs of the healthcare administrator. Our healthcare experts address special concerns about textile and furniture cleanability, moisture resistance and effect on indoor air quality.
Key Furniture Products for Waiting Rooms and Treatment Rooms
Reception Desk – Custom designed to meet HIPPA requirements and ADA accessibility.
Arm Chair – A sturdy arm makes it easier for people to sit down and easier for them to get up to a standing position.
Bariatric Seating – 15 to 20 percent of the seating in a waiting room should accommodate people with a larger frame and weight.
Hip Chair – Designed with a higher seat and armrests for patients with a hip problem.
Children's furniture – Colorful tables and chairs scaled for children.
Recliners – Electric controls make a recliner easier to operate.
Creating a patient-centered environment starts with the waiting room. Systems Furniture Inc. works with architects, contractors and healthcare facilities' managers, in Northeastern and North Central Wisconsin and the lakeshore to design waiting rooms, treatment rooms and more. We provide healthcare furniture for collaborative workstations for nurses and physicians, space saving administrative offices, community engagement areas and café areas. Check out our website, sysfurniture.com, and give us a call at 920-336-1510. Our account managers and interior designers are ready to bring our healthcare furniture expertise to you.