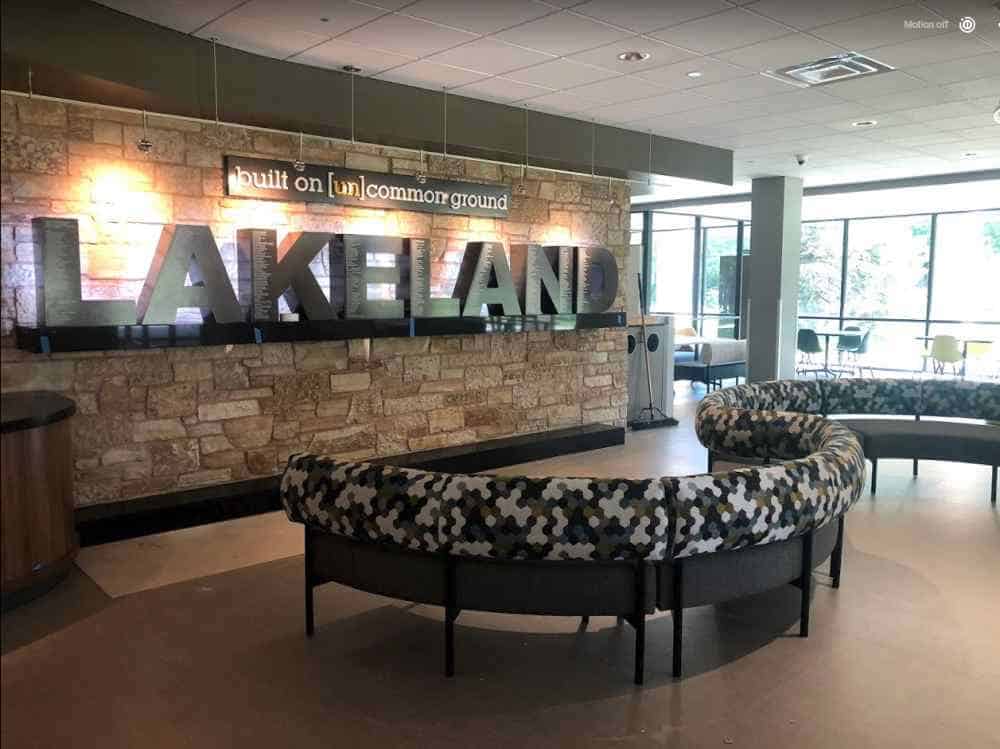 Campus furniture that builds a community
Systems Furniture transforms Lakeland University's Campus Center
How does a campus bring their students together at the true heart of campus? That was the question Lakeland University wanted to answer when they reconstructed their existing 1964 campus center building. Systems Furniture brought solutions with campus furniture including lounge furniture, dining room furniture, meeting room furniture and even a pool table.
When the Younger Family Campus Center reopened for the 2018 fall term, it had a fresh look and was an immediate success for a school that has 150 years of history in Plymouth, Wisconsin.
Three ways campus furniture improves student connections
Greet – A café area right at the main entrance immediately welcomes students and visitors. The curving Playground bench from Encore, the OFS Rowen sofas and lounge seating encourage students to take a break and engage with other students.
Meet– Meeting space was crucial to the redesign plan. Systems Furniture provided task chairs and conference tables for the Lauer Center for Student Success and Development and the Entrepreneur Studio. Using task chairs with wheels and easy-to-move tables gave the rooms the flexibility to be used by different groups. Private offices were furnished with products from the Jasper Desk Company.
Eat – What better way to feel like a part of a campus than to share a meal. Lakeland University has multiple food service options for students. Systems Furniture suggested multiple dining furniture options from restaurant style booths, to bar height Lumin stools from SitOnIt and OFS Kintra tables to traditional dining tables.
Systems Furniture is your interior design company
Campus furniture has to meet many requirements. It has to be comfortable, colorful and able to stand up to everyday wear. This is where our interior designers offer colleges the best options for their campus furniture with our large selection of fabrics and contract vendors. Our expertise includes space planning and open office furniture systems. Our account manager and interior design teams work with corporate facilities managers as well as campus planners throughout Wisconsin from Green Bay to Fond du Lac and across the state to Wausau and Eau Claire. Visit our website, sysfurniture.com and call us at 920-336-1510.