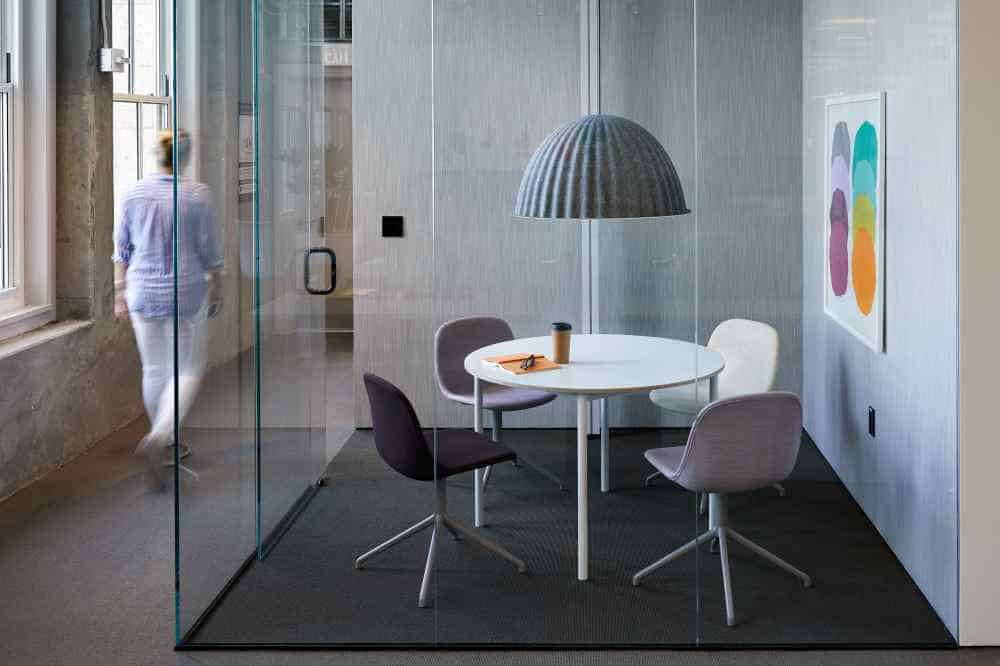 Muuto – A contemporary look for corporate office furniture in 2019
Systems Furniture's showroom adds a Scandinavian perspective
Maybe it is Wisconsin's rich Scandinavian heritage and maybe it is the Midwestern appreciation of a well-made product at a good price that makes Systems Furniture's new offering of Knoll's Danish-made Muuto corporate office furniture line so appealing. The warmth of oak mixed with the strength of industrial metals and the smooth touch of leather is what makes Muuto stand out. Subtle colors that echo the earth and forest of Scandinavia are evident in the chairs, couches, tables, shelving, lighting fixtures and rugs in the Muuto product family.
"Adding Muuto products to our De Pere showroom gives us the opportunity to explore a modern look that works for offices, hospitality and educational campuses," said Curt Beilke, president of Systems Furniture. "Because Muuto furniture works in so many environments it is a part of the 'Resimercial' trend that combines the ease of being at home with the functionality of corporate office funiture."
Meet Muuto corporate office furniture
Seating– The chair shell of the Fiber side chair and Fiber armchair is made from a composite of wood and plastic fibers for a deep matte surface and soft touch. The Nerd bar stool is available in oak or ash with a curved back and seat emphasizing craftmanship and comfort. The leather upholstery and the soft deep seat of the Outline chair invites guests to relax.
Tables– The Around coffee table is a round table that celebrates the beauty of wood and comes in three different sizes. The Airy coffee table appears to float on a wire framework which makes it the perfect companion to lounge seating.
Lighting– The Under the Bell pendant lamp makes a statement three ways: it has an eye-catching shape, it is made from recycled plastic bottles so it has an environmental purpose and the acoustical design helps absorb the noise of the office.
Choose Systems Furniture for your Corporate office furniture
Visit our showroom at 125 S. Broadway in De Pere to view our new offerings in person or contact us at 920-336-1510 to have a sales associate come to your office in Green Bay, Appleton, Oshkosh and across the state to Wausau and Eau Claire. Our interior design team can show you how Muuto works as campus furniture, in a hospitality setting or how you can add a Scandinavian coolness factor to your corporate office furniture floorplan.