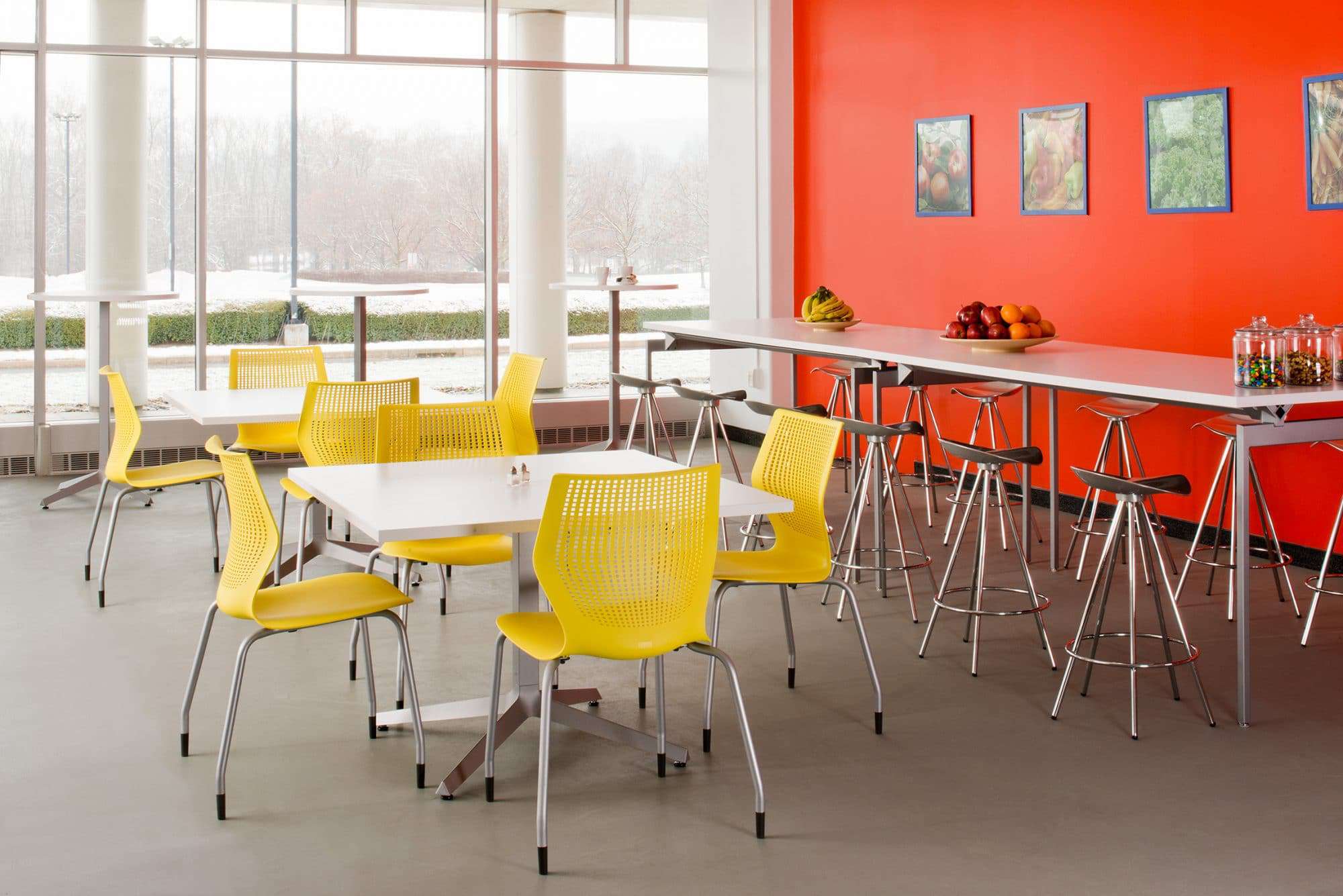 Four reasons to update your break room
New break room furniture ideas come from Systems Furniture
Call it a cafeteria, a break room, or the university commons, the purpose is the same—it is a place where employees or students can step out of their focused work and unwind. Why does it make sense to have Systems Furniture in De Pere design the space and furnish it? We can show you how investing in the work environment and specifically choosing the right break room furniture can pay big dividends for your business or university.
The benefits of updating break room furniture
Recruit and retain– Make your business stand out for potential new hires. Systems Furniture's interior designers and account managers put together a space that celebrates valued employees. Our work on educational campuses includes turning ordinary cafeterias into community hubs that draw students in.
Encourage connections and interactions– A cafeteria should be a comfortable meeting place that brings people from different departments together. Casual conversation and the exchange of ideas can spark the next great business innovation. Give employees and students a variety of break room furniture seating options from restaurant-style booths, high top tables and stools to traditional dining tables and chairs.
Reduce the stress—Taking a mental break and having a bite to eat lets employees or students relax and return to work refreshed and ready to focus. Include a few comfortable lounge chairs for a casual vibe. Inject some fun with a ping-pong or pool table.
Make it a flex space– Space planning can make a break room space flexible enough for multiple uses. An employee can use it to step out of their workstation and plug a laptop into tables with electrical and data access. With chairs and tables on wheels a cafeteria can be reconfigured beyond a dining room to become a training room or all-institution meeting area.
Choose Systems Furniture for your break room furniture
Our account managers and designers can take an incremental approach and work with you on one part of your office environment such as lobby furniture or break room furniture or redesign your entire office. Systems Furniture works with business and educational campuses from Eau Claire to Wausau to Green Bay and south through Appleton, Oshkosh and Sheboygan. See the scope of our work at our website, sysfurniture.com and then give us a call at 920-336-1510.
tags: office breakroom cabinets, office lunchroom cabinets